The famous break up line "It's not you, it's me", has been heard in movies, tv shows, and real life situations. It usually means someone is taking blame for a breakup. In my case I am not quoting this phrase due to a break up, just my life for at this point.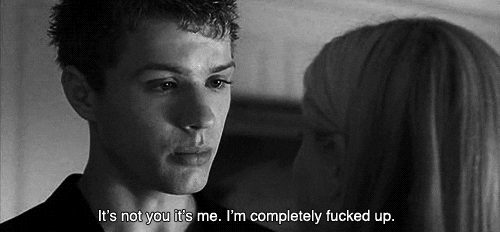 Have you ever noticed yourself being frustrated a lot more than normal? Or are you starting to pick fights with family members for the smallest things?  Everyone else is the problem? Then take it from me, this is for you and you might be the problem.
I am 25 years old with a B.A. in Communication and minor in journalism from THE Coastal Carolina University, and I stay with my mother. So this is my personal testimony on this topic.
A little backstory:  I decided to move home March of 2015 after graduating in August of 2014.  I thought  moving home seemed like the smartest way to save money, and not be tied to a lease. if I was to land a job somewhere else.  So I would worked to save my pennies and keep applying for jobs within the journalism field. To my surprise finding a job within the news field is extremely difficult, and everyone wants two to five years of experience from college students.   I did however develop have a nice savings account backing me until rainy days and other stressful situations came. I did land a job at a news station, and worked as a master control operator for six months. It was a temp to hire position, that I my six months did not compete well against someone with ten years. But I still got the professional experience, so I am grateful.
It is now half way into 2017 and I am still staying home and I noticed a change in my behavior. I am annoyed.  For sometime I thought it was everyone else who was the problem? Because how could I be a problem for any one?  Until one day it hit me that I was the problem. Being mad with everyone else because I am truly upset with myself.
Do not take mistake my annoyance of staying at home with being ungrateful or unappreciative, because moving back to home was the smart thing to do. It just isn't something that was meant for me to do as long.
My space is not my space, the rules are not my rules, and the comfort is going. Which in itself can be that fire that puts you to action and start moving forward. Moving myself back on the path that I once visioned.
This butterfly wants to fly. I just haven't used my wings in a while.
It is me because I am the only person preventing myself from finding greener pastures.  And being content with content is not how I ever thought I would live my life.
To quote my favorite line from the movie Set It Off, "It ain't you that I'm mad at".